Give me a chicken, spatchocked and grilled.
Two women + one chicken vs the elements.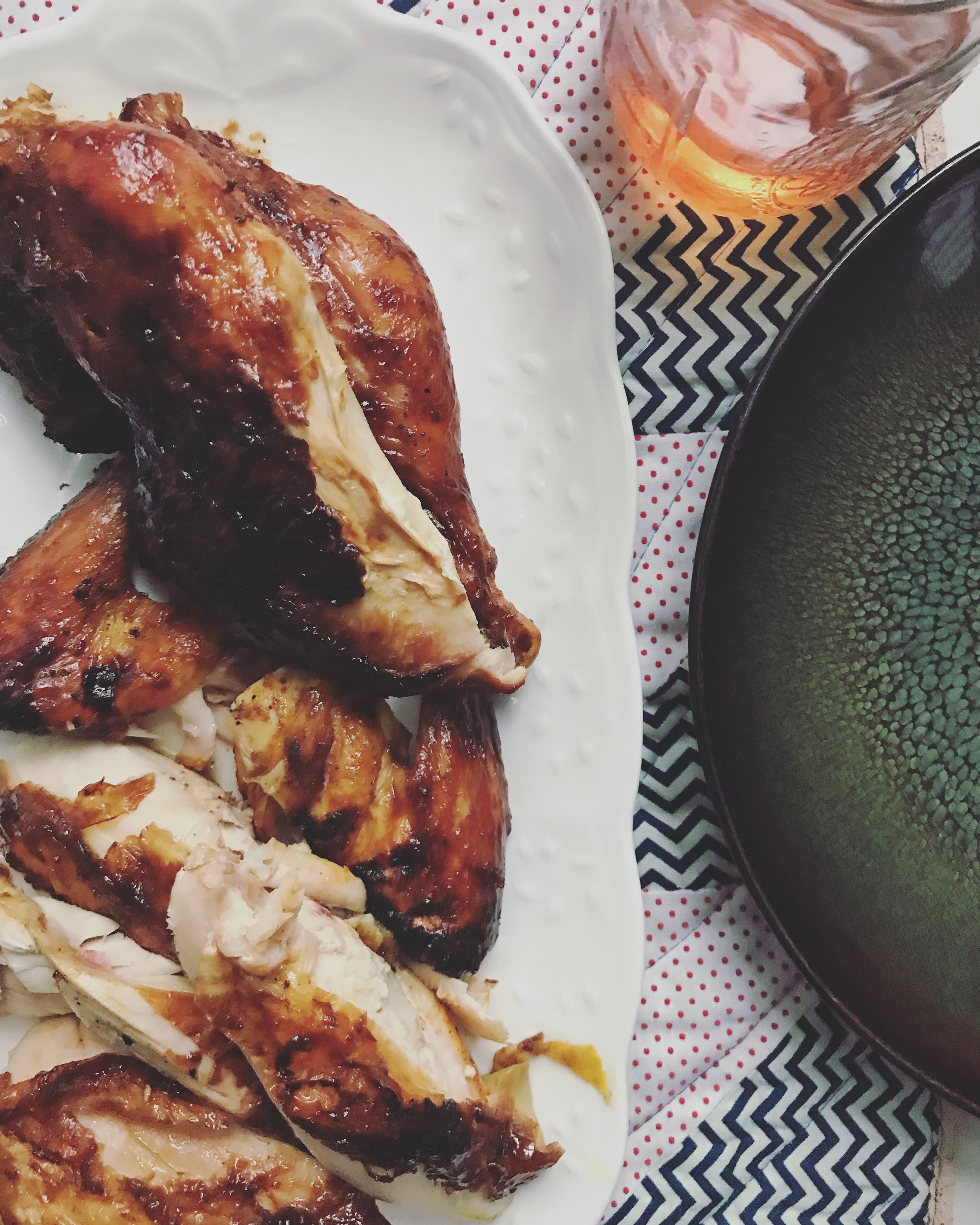 Recently, my friend, fellow marketer and food writer Francesca Olson invited me to cook with her for her monthly column for The Berkshire Eagle. I was happy for a moment to not cook in my postage stamp-size apartment kitchen. It's sufficient for cooking my own meals but I continue to dream of expansive counter tops and kitchen islands! Any opportunity to expand outside of the 1 x 1 foot counter space is something I can't say no to.
The mission? Spatchcock and grill a whole organic chicken while fighting off potential rain.
I have a confession: I'd never cooked chicken, period.
As a "reformed" vegetarian, I spent the past 13 years (much of my college and post college time) working with non-animal protein, and never had the need to learn. As I've slowly started learning to cook meat, chicken has been a protein source with the caution signs all over it: "Make sure it's not pink/too dry/too raw/wrong," or "you're going to kill someone with that!"
It's as if the chicken smelled my fear.
I avoided chicken when it crossed the road... or my path at the supermarket. A beautiful kitchen and a fellow food friend was the perfect combination I needed to conquer that fear. Francesca brought the thunder (in the form of know how, chicken and a killer bbq-cherry shrub glaze), and I brought I brought a bottle of Nine Pin Cider and sort-of food styling.
When I arrived my nemesis was sitting in a pot brining for the past 24 hours. In a mix of water herbs and spices brining the chicken before hand ensures that it would not get to dry once it makes its way to the grill. A quick demo on how to spatchcock the chicken revealed that it's very easy to show the chicken who's boss--especially when the results in a flat chicken! You can get the full recipe on The Berkshire Eagle website but suffice to say that laying it flat on the grill with one turn and brushing it with that beautiful glaze resulted in a chicken that was tender and for a moment worth facing my fear. I chipped in on finding some natural light and props for a photo. Also, the color coordinating quilt/mat that it's all under? Hand made by Francesca. We're a DIY to the bone here in the Berkshires.
Will I be running out to cook a whole chicken in my tiny kitchen? No. Will I keep this in my back pocket for a dinner party? Definitely.